Las telas del cielo
28 January, 2011, 16:30 - -Bosque/montaña, -Largas exposiciones, -Navarra, Citas/textos
---
He wishes for the cloth of Heaven

Had I the heavens' embroidered cloths,
Enwrought with golden and silver light,
The blue and the dim and the dark cloths
Of night and light and the half-light,
I would spread the cloths under your feet:
But I, being poor, have only my dreams;
I have spread my dreams under your feet;
Tread softly because you tread on my dreams


Él desea las telas del cielo

Si tuviese yo las telas bordadas del cielo,
Recamadas con luz dorada y plateada,
Las telas azules y las tenues y las oscuras
De la noche y la luz y la media luz,
Extendería las telas bajo tus pies:
Pero, siendo pobre, sólo dispongo de mis sueños;
He extendido mis sueños bajo tus pies;
Pisa suavemente, pues pisas sobre mis sueños.
Este poema de
William Butler Yeats
(He wishes for the cloth of Heaven) lo he descubierto gracias al trabajo de
La pinza venenosa
, un estupendo blog donde el autor recoge fragmentos o frases de obras literarias y cinematográficas de su interés, os recomiendo pasar por él.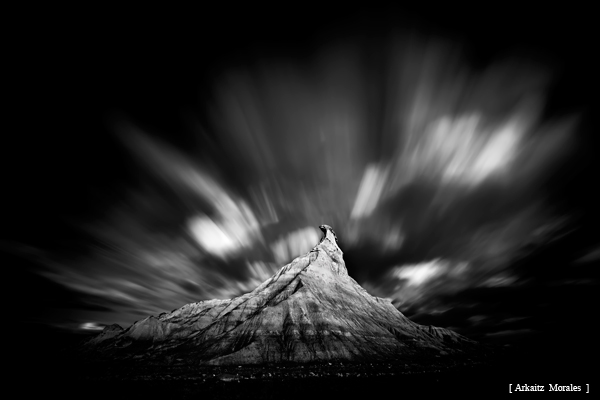 Bárdenas reales (Uno de los cabezos integrantes de los Tres Hermanos). Canon 5d MkII, Canon 17-40 (f/13, 30 segundos e ISO 100), polarizador y densidad neutra 10 pasos.


4 comments »
( 2881 views )
permalink





( 3.1 / 1269 )
<<First
<Back
| 14 | 15 | 16 | 17 | 18 | 19 | 20 | 21 | 22 | 23 |
Next>
Last>>